Tasting 80+ wines per day, blind: an intense and enlightening experience
April 26, 2012
It was Thursday late evening, 26 April 2012. Just after my fourth day straight, tasting at least 80 wines blind per day for Decanter Magazine.
The occasion? The World Wine Awards.
I was part of a phalanx of some 150 judges from all over the world – from Hong Kong and Vienna to Palm Beach Florida and Vancouver, Canada – to taste 14,000 wines that had been entered into this contest. It was great to meet so many fascinating wine experts from around the world.
Everything ran like clockwork, over a five-day period of intense tasting. The conditions were excellent. Efficient and friendly staff provided clean Riedel glasses, bottles properly disguised with only numbers, although we knew the categories of what we had been tasting.
For example, when I tasted German wines on Tuesday, we knew whether the wines came from Rheingau or Pfalz, whether they were still, dry or sweet (or white or red…and, yes, there were a few fine German reds), the levels of alcohol, residual sugars and acidities. So pretty precise stuff.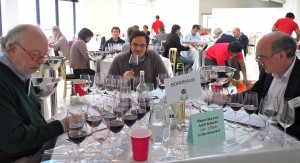 Usually we were grouped at tables of four, sometimes three – as you can above in this photo with Hugo Rose, MW and Christopher Cannan – tasting scores of Bordeaux. In the video below, I captured one moment of disagreement, and then another moment when we agreed on the wine in question. For the most part we reached consensus. Scores were based on the 20-point scale, with gold medals requiring at least 18.5 points, silvers at least 17 and bronzes at least 15.5.
As you can seen in the videos and photos, the tables were all covered with white sheets in turn covered by clear plastic, making it easy for wiping away drops or spills.
Still or sparkling water was provided. Because it was an all-day affair each day of the week, breakfast and lunch were provided, too. Superb lamb cutlets on Thursday were easily gourmet restaurant quality.
Each day began at 9 am with a hearty welcome from Decanter publisher Sarah Kemp and World Wine Awards chairman and celebrated critic Steven Spurrier, as we enjoyed fresh pastries and fruit and fine coffee and tea…
How we tasted…
It was excellent to go through each wine, usually rattle off a number on the 20-point scale. Sommelier Virginia Philip had the bright idea of just calling it out a number in turn, to avoid to much chatter, unless of course there were variations in scores. In that latter case, we explained our scores. On the other hand, it was fun if more time consuming perhaps to have each judge briefly talk about each wine in turn, as we did under the direction of German wine expert Giles MacDonogh.
Whether we talked much about a wine or not, our tasting sheets required clearly written tasting notes, because Decanter also hired transcribers whose job it was to type out tasting notes on software. We were encouraged to be enthusiastic about wines we liked.
On occasion, when the group was split over a wine, the regional chairpeople (for example James Lawther MW, for Bordeaux) would step in and taste and offer their opinion, especially when it came to deciding whether a wine deserved a medal.
In the video below, Steven Spurrier tastes a German Chardonnay that obtained widely varying scores among the four wine tasters on Tuesday led by Giles MacDonogh and including Jason Turner, Gearoid Devaney and myself. So Steven sometimes stepped in to lend his opinion should the group not reach consensus.
Perhaps the greatest reward from all of these intense tastings – and I do mean intense, because even if we spat out the wine, it got rather tiring to go through so many in one day – was to see old friends and meet new ones! From enthusiastic Loire Valley expert Jim Budd, who posted photos from the second day of tasting, to Tony "The Wine Guy" Aspler, a Canadian blogger who also runs a human rights website supported by wine lovers, Grapes for Humanity. It was indeed a great pleasure to taste German wines with expert and historical scholar Giles MacDonogh, who made the German tasting so much fun – and informative. It was also a great pleasure to meet Alsace expert Tom Stevenson, who I hope will drop by the next time he visits Alsace.
And what a pleasure it was to meet again Rome-based wine critic Ian d'Agata, who is project manager for this year's Merano Wine Festival in Italy, where I will also present some wines. Tasting with Florida-based sommelier Virginia Philip was a particular high point, as I had not seen her in quite a while. We both come from the US, but we have met only outside the US, in Paris and now in London. Hugo Rose, MW, was, as ever, demur and intelligent, with a sense of fun that is so important to making wine enjoyable. I also enjoyed tasting with Gearoid Devaney, Jason Turner, Christopher Cannan, Antony Moss, Marcel Orford Williams, Nicola Arcedeckne-Butler MW, and others.
Of course enormous thanks goes to the entire staff at Decanter Magazine, which basically organised a terrific tasting in a marvelous setting: The Worx in London, just near Parsons Green. One of the many cherries on top of all that – including a splendid judges party Wednesday evening – were the free drinks vouchers for the trendy White Horse Tavern in Parsons Green. I did not use any of those vouchers before Friday, because I was so tired after each day of tasting. Thankfully, Friday proved to be the lightest load (just … 67 wines, from Alsace) so I enjoyed a couple of beers at the Cheval Blanc. But then over the weekend, when I saw some friends in London, we went all out!
All in all, a very interesting and useful week for my wine tasting experience!
Some notes – general notes – on wines I had tasted a few days afterwards… from memory.
Bordeaux 2009 is a successful vintage, but there are some heated wines, and certainly some alcoholic wines. But there were also pleasing wines at all price points. I recall enjoying quite a few Cotes de Bourg from the 2009 vintage for example. Hardly any gold medals for the low end, but a series of cru bourgeois level Margaux 2009s were very fine and garnered a few silvers. Bordeaux 2010 seems to have more structure and freshness, but the high tannins are also there, as is the alcohol for the Right Bank.
Germany. We tasted various vintages, and I was surprised by the quality of some of the reds, although prices were high. The Chardonnays were not so good, but Riesling did well, as predicted.
Alsace. I tasted mainly Gewürztraminer. While many were good, flabbiness perturbed with highish residual sugars, for example. Prices points varied and some of the most memorable wines were those that sold for under 15 pounds in the UK and tasted darn good. There were at least two of those and I look forward to cross checking my notes with the final published results in May, at the London Wine Fair.