Storms collide: 10 remarks from Alex Gambal in Beaune (update 25 July)
July 25, 2013
By Panos Kakaviatos
Thanks to Alex Gambal, here an update on my previous posting Wednesday (see below) about two storms that collided over the Côte de Beaune causing much damage in vineyards there. A former Washingtonian, Alex Gambal left the world of real estate to explore Burgundy.
I first met Alex on Nantucket Island almost 10 years ago, because he takes part in the Nantucket Wine Festival. He had attended viticultural school in Beaune, and then created Maison Alex Gambal in 1997, with the goal to express wines of character, terroir and purity. Having served his wines at Nantucket Island's Chanticleer in 2007 and 2008 as wine steward, I can attest to their high quality.
Now, Alex is doing a tremendous service to us wine freaks and geeks, because of his transparency, his detailed information on damage from the storms, with vivid descriptions, noting for example the "staggering" differences in rainfall from one area to another. He even shares with us damages in his own vineyards as related to him from his insurer…
"Here", wrote Alex, "is the latest from the front". He sent me an e-mail with the following 10 very interesting points:
1. In general there is no one "right" number vis à vis the damages.  There are a number of factors that effect the actual damage. What was the orientation off the vines; N-S or E-W? Had the vines been recently trimmed? If not the canopy acted as a shield (interesting!). Had the vines been de-leafed for aeration? If so there was much more exposure to the hail.Where in a particular village was the parcel located? There is great variation in the damage.
2. This said, I spoke to my insurer right before I did a tour of the vines, and this is what he related.
Maximum damage/loss of grapes:
Base of Aloxe: 30%
Corton Charlemagne facing south and west: 60-70%
Savigny: 60%
Chorey: 45%
Beaune: 60% to as much as 80%
Pommard: 70-80%
Volnay 50-60%
3. After we toured the vines this morning and saw many winemakers doing the same thing, I can relate the following about my vines and other  
anecdotal stories.
Gambal vines:
Chorey: 15-25%
Savigny: 30-40%
Bourgogne Pinot Noir, 4 parcels: 25-40%
Bourgogne Chardonnay: 50% at least??? We de-leafed.
Thierry Matrot from Meursault said Volnay Santenots (north Meursault) loss 25%.
4. It appears that there was a wall of water and rain from just north of Meursault to the south and west side of of Corton Charlemagne and Pernand Vergelesses. It is unusual that the front was this big. Someone who was biking said that the storm looked like  the "black smoke" on "Lost." Usually the storms are more localized.
5. The most severe damage seems to be on the higher parts of the southern Beaune vineyard, Clos des Mouches, Aigrots, Avaux, Teurons  to Pommard Pezerolles and Noizins etc.
6. Volnay 1er Cru, the main slope, Champans etc 50% or more damage.
7. To the north Savigny villages and 1er Crus in the Lavieres area hard hit.
8. Corton Charlemagne, west side (Pernand) very hard hit. I already  have received cancelations of grape purchases. No Charlemagne in  2013 chez Gambal.
9. The differences in rainfall in about 1.5 hours between very  little distance are staggering: 2.25 inches in Volnay, 1.75 inches in Pommard, to a bit more than .4 in Monthelie just behind Volnay. Now this is crazy. Just drops in the Cote de Nuits.
10. Work will continue in the vines over the next several days to dry out the damaged grapes and to limit mildou. It is early enough in the season where the damaged grapes should dry out and fall off  or can be removed at harvest by the destemmers.
My Previous posting from earlier this week …
Just spoke to several vintners and representative of Burgundy's Wine Council and the news is not good. After a very late start to the growing season, lack of sunlight and slow development of the flowering, three weeks of decent weather ensued, vintners said.
But hopeful smiles were wiped away on Tuesday 23 June, when two storms collided leaving devastation in their wake, from the hill of Corton to Meursault.
On Facebook, Nicolas Rossignol in Volnay has posted many images of the damage, and when I spoke to Thiébault Huber of Domaine Huber Verdereau in Volnay for my report on the devastating storms for Decanter.com, he sent me some photos. If a tree (below) could be cut down by the weather, imagine what could be done to the vines…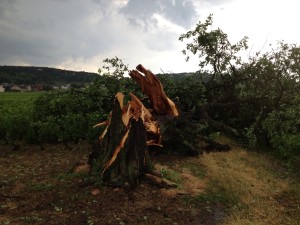 Bunches of grapes show hail damage even if there is sun when this photo was taken, after the storm.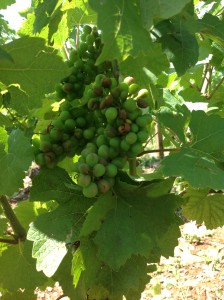 And the photo below – taken from the Facebook page of Domaine Nicolas Rossignol in Volnay – shows severe flooding.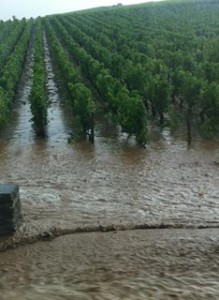 This is not looking pretty for the Cote de Beaune in 2013.
I called Clos des Lambrays in Morey St. Denis and was told that the vineyard was untouched, but that director Thierry Brouhin was absent from his office to check on few parcels of vines he manages in Puligny Montrachet. When I spoke to Frédéric Mugnier of Jacques Frédéric Mugnier in Chambolle Musigny, he confirmed that the storms left the Cote de Nuits unscathed. "We had rainfall but nothing nearly as serious," he said.
Another vintner told me that if hot weather returns, there could be another storm coming.
Stay tuned…