Unveiling the potential of Cypriot wine
November 15, 2011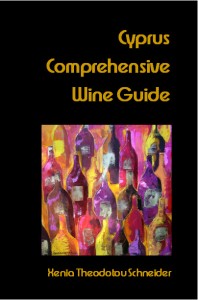 In recent wine tastings in France, Spain and Italy, professional tasters were stunned by the quality of the Maratheftiko – a red wine grape that is but one of only 17 indigenous grape varieties in Cyprus. "This grape", according to Biarritz-based sommelier Xenia Theodotou Schneider, will help Cyprus gain a prestigious name on the international wine map." During a tasting of several Cypriot wines in Rome, for example, for the prestigious "Due Mille Vini" wine guide, "proceedings came to a halt when the Maratheftiko wines were tasted," writes Schneider in her new book Cyprus: Comprehensive Wine Guide.
I have always associated Cyprus with Commandaria – arguably the world´s oldest wine. Schneider certainly devotes much time in her book to the legendary wine, going as far as to write that Commandaria "is Cyprus" before recounting the wine´s illustrious history: produced in the same way today as it was in antiquity. The current name comes from the Knights Templar and the Order of St John way back in 1210. Schneider´s book explains why only two grapes are authorized to make Commandaria, that it can only be produced in 14 villages within its appellation – and enjoyed as a dessert wine or "in the same manner as someone would enjoy a nice cognac."
But just as less knowledgeable wine lovers may think that Portugal begins and ends with Port wine, Cyprus is also brimming with many fine dry reds and whites. The book features 39 Cypriot wineries and detailed tasting notes for 219 wines, along with food and wine pairing recommendations. Winery profiles represent the book´s bread and butter. The reader is enriched with detailed information on the various wine regions and wines of Cyprus.
In addition to describing the importance of the Maratheftiko grape, Schneider describes the qualities of many other indigenous varieties – 23 in all. Certainly among whites the most famous is Xinisteri, but Schneider includes rare varieties such as the flowery Promara or the grassy Sauvignon- Blanc like Spourtiko.
Cyprus: Comprehensive Wine Guide reflects the passion and knowledge of its author. A certified sommelier, Schneider works at the famous Palace Hotel in Biarritz. In 2007, she organized the first Cyprus wine tasting in Rome and published an extensive article on Cypriot wines in the influential Italian wine magazine Bibenda, the basis of her book. The book flows logically, beginning with a useful history of winemaking on Cyprus. Schneider´s qualifications as a sommelier shine through in the section about how to appreciate wine in general.
The book is filled with many practical sections including for example a status report on Cypriot restaurants and wine. Schneider claims that too many restaurants do not educate their customers enough about wine: they "carry a large responsibility" for a predominance of beer and sodas instead of wine. She almost implores wine minded readers to seek restaurants that have proper wine glasses and updated wine lists. To me that is a serious and useful critique. Schneider also includes a very useful section on wine routes that readers can follow, which adds interest even to the more casual summer tourist.
My only caveat: the book could have used better copy editing. For example, some articles are missing where needed. And in the Commandaria section, the reader misses a critical statistic because it is left out: "The regulations require that grapes for Commandaria must come from vines at least (blanc) years old," one reads… The number  is four years, by the way.
But overall Schneider has produced an excellent guide for any wine lover who thinks out of the box. And one really should think out of the box. Why focus only on French, Spanish, Italian wines, when other wine sources of fine wine are in the vicinity?
Cyprus beckons.