More evidence that 2012 red Burgundy is darn good: tasting Thibault Liger Belair
November 16, 2013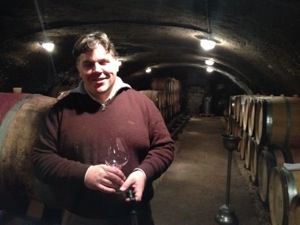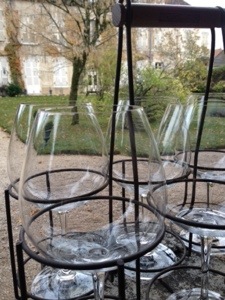 A very cold November morning, just days before the 2013 Hospices de Beaune auction.
Thibault Liger Belair – in photo above – began with four fine Moulin a Vents. He has 8 hectares in this superior Beaujolais village and makes 4 cuvées, of which the last two conveyed particular interest. He is a big fan of Desvignes.
Les Rouchaux comes from vines on lower slope, blue granite soil underneath sands and limestone. He does not like whole grape fermentation so no stems. The nose is deep and the palate varietal. Of moderate flavor intensity, tasty.
The Old Vine Moulin a Vent is made from 7 parcels of vines aged between 60 and 85 years old from higher slope elevations. The pink granite lends more tension and quartz more sculpture to the wine, he explained. Some clay as well lends richness. I thought this was deeper on the palate.
La Roche was even better, coming form cooler part of the slope, more subtle aromatically and layered on the palate.
But my favorite was "Les Vignes Centennaires" made from pre phylloxera vines planted in 1875 and 1882. He bought the vines from man in his 80s who recalled "how old the vines" looked when he was a young man… Thibault researched the vines at the Chenas mayor's office and purchased the half hectare to make a very special Moulin a Vent: nuanced and elegant with echoing length.
We then spoke about barrels and how he selects which oak to use and sometimes employs very low toasting – tar tar – to prevent any vanilla aromas. He never toasts higher than 120 degrees.
Nuits Saint Georges La Charmotte. A village wine, with clay over limestone imparts lovely tension, and purity.
Gevrey Chambertin La Croix des Champs. Another village of clay and chaille – a form of silex – soils. Fermented with 50% stems, which Belair said lends tension and vegetal freshness. He fermented as like a sandwich, with de-stemmed grapes at bottom and top of the tank and with stems in the middle. Reductive and somewhat tough… This is Gevrey, he said, which reminded me of the village level Gevreys tasted the day before.
Vosne Romanee Au Reas. More velvety, with wet stone and cherry, and a sweeter nose. I liked this quite a lot.
Chambolle Musigny Les Gruenchers 1er Cru. Located just over Les Fuees. Floral nose, mid palate is expansive but closes down on the finish. Delicate mid palate and fine aromatics, promising.
Charmes Chambertin. Taken from new oak barrel but very low toasting and made from three types of oak, from trees grown on clay soils, sandy and limestone. CLL — toasting, or lente, lente minus minus… Call it chauf tartar! Quite opulent but not heady in spite of the wine being, get ready, 15.5 degrees alcohol.
Corton Les Renards. From vines high on the appellation, cool climate and very limestone. Like other grands crus to be bottled latest, in September this year. Very fresh and layered, I prefer this to the Charmes, which is less charming and more dense.
Clos Vougeot. The domaine has vines on all three soils of this grand cru and good mid slope location. Very deep nose and broad on palate but never heavy, just deep and showing much potential for complexity, albeit finish shuts down a bit, which is normal.
Le Saint Georges. Reductive nose at first, but then complex and layered, combines finesse and density, and worthy indeed of grand cru status.
Richebourg. Rather closed and very reductive on the nose. Takes time to coax aromatic potential but very fine tannic grain and very long finish. Shows much depth.