29 fine to sublime from 2009: dry German Rieslings tasted blind
October 8, 2010
25 September 2010. Berlin. I was invited by wine and food enthusiast Martin Zwick, where he gathered other tasters, including professional wine merchants, journalists, bloggers  and the well-known German winemaker Hans Oliver Spanier. The occasion was the 'Berlin Riesling Cup' when we tasted 29 grand cru Rieslings from the 2009 vintage (plus one ringer): some very rare and not yet tasted by the professional press. Martin picked the wines and Klaus Peter Keller of the famous Keller winery chose which would be put into 15 flights of two wines. The wines were opened the morning of the tasting, which began at 6 p.m. on 25 September.
Participants
Jürgen Klucken (a veteran wine taster, with whom I have had the pleasure to taste in Berlin since 2005)
Frank Ebbinghaus (speech writer for the mayor of Berlin)
Thomas Iversen (A Danish wine lover with a Champagne blog 'Mad About Wine' whom Martin had met before in Berlin)
Claus Lyster (Another Danish taster)
Nikolai Lassmann (A friend of Martin's who tallied the scores at the end of the tasting)
Ralf Behringer (A wine merchant in Mannheim)
David Strecker  (Another Berlin-based wine taster whom I have known since 2005)
Michael Liebert (A Munich-based sommelier)
Hans Olivier Spanier (A well-known German winemaker and rising star, Martin said. Known as 'H.O.')
Each participant gave his score for the wines using the 100-point scale. The final average ranking changed somewhat – here final ranking by the group – when the lowest and highest scores given were removed. After the adjustment, the only non grand cru wine (and non Riesling) in the tasting, a Müller Thurgau made by a German journalist, Stuart Pigott, came in last. Keller's G-Max was the top wine, both before and after the modification. My notes and scores follow below, with wines in red I like in particular and in red and bold I fell nearly in love…
About the 2009 vintage in Germany. The key, according to both Keller and Spanier, was to have picked later in 2009. In the Palatinate region (Pfalz), pickings tended to come a bit too early, they said – although exceptions exist. We also found at the tasting that many wines from the Rheingau seemed a bit flabby compared to other regions. The best wines seemed to come from Rheinhessen, Mosel and Nahe, when winemakers waited through November to pick. Spanier explained that later picking for Riesling as cold weather set in was good for 'conserving' its mineral aspects. He also noted that on a general level – not among most of the wines at this tasting – 2009 had some excessive yields. But among the top, "10 to 15 wines" he said, are "probably the best ever done"… with "minerality, ripeness and balance." Mr. Keller agreed, calling his G Max in 2009 "the best" he has ever made.
Living in Alsace, I have had my share of Alsatian Rieslings: from dry to sweet, from mineral to fruit driven. With one exception, we tasted Rieslings rated "grand cru" in Germany, which also means that all of the wines had no more than 9 grams of residual sugar, so the impression was mainly dry: some more than others, at least in tasting… the tasting was blind, too.
Flight One
First wine: fine aroma, tobacco, with lime-infused gunflint: interesting that it has a slightly darker color than the second wine. The palate started out good, but proved flabby on the mid palate, and rather warm on the finish, which lacked verve. Martin noted that this Rheingau wine is somewhat typical of the region, which in 2009 lacks energy… Schloss Johannisberg "Silberlack", Rheingau. 13.5 alcohol. 86 points. I gave it a rather harsh score, because the nose was nice, although Thomas gave it an 84. It was the second least liked wine of the night.
Second wine: More mineral aroma. Good palate, albeit some sweetness on the palate, a bit of heat. The nose is not as expressive; a bit of carbonation on the palate; sprightlier. Dr Crusius "Felsenberg" GG Nahe. 13  alchohol.  90 points. 
Flight Two
Wine One (third): Pineapple aromas, fresh but a bit monolithic. The palate is better, although a bit sweet. A decent backbone overall, and the pineapple dissipates, as the wine tightens up. Dönnhoff "Hermannshöhle" GG Nahe, 13 alcohol. Indeed the pineapple comes from the botrytis, I understood. Although the wine improved in glass, I was disappointed because this estate has done better. 89 points. 
Wine Two: (fourth)
More mineral nose, less 'obvious' than the above. Licorice mineral notes merge with orange peel and petrol. Complexity!This is a special wine, methinks. Wait 10 years, remarked H.O. Just a sample, so we do not know the alcohol level. Georg Breuer 2009 "Berg Schlossberg", Rheingau. This is an exception for the region, said Martin. A wine to seek!  93 points.
Flight Three
First wine (5) A beautiful nose! Fruit, yet mineral. Palate is linear, nice, rather complex. A bit herbal. Very impressive body combined with minerality. Perhaps a bit more alcohol than the next wine, a bit of heat? – But nice. Keller "Hubacker" GG, Rheinhessen. 13. Rheinhessen.  Complex spice on the nose. Minerality. Very fine. The only monopol wine so far, and one well worth seeking out.  95 points
Second wine (6) Licorice petrol aspect. Somewhat more typical nose. A bit more spritz. More energy.  Robert Weil Kiedrich "Gräfenberg"GG Rheingau 13.5. Fine, but nothing really extraordinary. Still, a good wine! 91 points.
 Flight Four
#4 First Wine (7) White color. Grapefruit freshness. Licorice. Beautiful. Good sap. Floral. Much more energy. H.O. remarked that this is the best ever produced by this estate. I can understand. Best wine so far for me… and it made the top four! The 13.5 alcohol is very well integrated. Schäfer-Fröhlich "Felseneck" GG , Nahe. 95,5 points perhaps 96! Buy this one.
Second Wine (8) Yellow color. Licorice. Buttery aspect but a bit slutty. Nice body. Lovely richness. But there is a monolithic aspect. Alcohol is present and the wines shows just a bit of fatigue.  Martin and Ralf liked this one, but Michael did not. 13.5 alcohol is felt. Kühling-Gillot "Pettenthal" GG 2009 Rheinhessen (Ecovin) 91 points
Flight Five 
First Wine (9) Cloying. A bit cheesy. Milky aspect? Just a bit. Palate is fine. Bit of a stony aspect. Schwefel? OK. But not my style… A Christman Königsbacher 'IDIG' GG Pfalz 13. Virtual monopol vineyard.  90 points. Most people liked it more than I did… Michael and I agreed. So did the Danes.
Second Wine (10) Another golden colour. Crystaline aromas of fruit. The palate is sweet green melon. Lovely freshness. Very long.  Beautiful wine. Good depth, length, and I like this far more than H.O.'s previous entry, wine #7…  Battenfeld-Spanier "Frauenberg" GG, Rheinhessen 13.5. Very nice job.  94 points
Flight Six 
First Wine (11). Fresh nose, a hint of sweet. Very powerful but holding it in. Beautiful wine. A bit sharper perhaps. Closed. But there is much potential. Reminds me of a young Clos St Hune, and I am not giving it red and bold now, but certainly at a later date, because it is as one taster put it, raw!  Keller "Morstein" GG. Far too young to drink now. 95 points
Second Wine (12) Subtle nose. Closed? Hints of stone and cherry pit? Fine wine, but the first wine is much more powerful in the sense of its potential. I get the feeling that this wine is giving more of itself now, whereas the first wine is going to better. But perhaps for now, drink this wine, which I like, as it grew on me.  Bürklin-Wolf "Pechstein" GC, Pfalz 13 alcohol. 92 points.
Flight Seven 
First wine (13) razor sharp. Stone like. The Danes and I were singing masochistic praises perhaps. The harvest began too early, said the others. Fedor also said that the acidity was too high. Mr. Spanier also found that the grapes in this wine were picked too early, in mid October. Also, he said that the wines in Germany, they are over-sulfured.  I liked this though, did not find it green; I found it young. Bürklin- Wolf "Kirchenstück" GC,  Pfalz 13 percent. A bit too sharp nonetheless. 92 points (amazing almost everyone came up with 92) 
Second wine (14) more slutty; there is a thicker aspect to this one, mineral. A bit too sweet in comparison? Probeflasche Keller "Abtserde"  GG 2009. It is a smoother wine, very lovely. Different style. Give it time? 4 stars. 93 points (many higher points)
Flight Eight (both are rare wines!)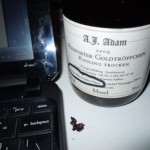 First wine (15) Honey notes and crystalized fruit. Apricot. I love this wine. Apricot. Juicy yellow. The palate is fine, a hint of sweet or botrytis?  This is on the edge. There is a bit of late harvest aspect but remains dry, teasing you with sweetness? 'Happy Birthday Mr President,' joked Mr. Spanier!  Teasing the President with botrytis… I can drink this easily, and I did!  Just 400 bottles of this wine. 12.5  A.J. Adam/Haart Goldtröpchen "Laychen",  Mosel. Beautiful wine! Very rich, yet dry and precise. Julian Haar, an intern with Keller and only 23 years old, made this wine. 94 points.
2nd PLACE! Second wine (16) Came in second place overall, well deserved.  A superstar. Very rich and nuanced. Has a mineral, slightly road kill aspect, but only slightly; so it becomes quality here! Mineral and petrol aspects; very subtle.There are only 240 bottles available! They will be auctioned this week, Martin said. Winemaker said he put 800 in his cellar. About 70 euros a bottle… Auction in Bad Kreuznach. Wittmann AlteReben "La Borne"  13.5. 'The best Riesling I have ever tasted,' said a couple of Danish wine experts. I was not that impressed, but this is a great wine. 96 points.
Flight Nine – DREAM FLIGHT! 
1st PLACE! Wine One (17) Gunpowder. Mineral. Raw yet ripe. There is a contained richness. Super wine. This is a wine I would not hesitate.  A taster – Nicolai – said that it was monolithic… Nah, it has volume. Give it time. There is a beautiful nose here. A smoky nose. Masculine. Keller "G-Max" 228 euros for the 2008! 1,200 bottles only.  95 points
3rd PLACEFlight Ten
Wine Two (18) Fresh floral. Smells like flowers. Lovely palate. Rich yet focused. A bit closed? I like the sensuality of this wine… Emrich Schönleber "Halenberg" GG , Nahe 13. What can I say about this wine? It is a revelation because it does not cost nearly as much as the preceding wine and the quality is not that different… Like Trotanoy to Petrus in a great vintage. BUY THIS ONE! 31 euros  95 points… Excellent price quality ratio… I am buying six of these.
Wine One (19) Lighter color. White pepper. Handsoap? Lavender. Nice fresh palate. I would like to buy the first one… over time the nose does not change much. Dr Loosen Erdener Prälat GG Alte Reben Mosel 93 points.
Wine Two (20) Darker color. Pinecone. Nice, sweet but not heavy, but not as pure as the first… Robespierre virtue? Shoot, the second one also has Nelke. Clou de girofle. Hints of burnt caramel? Nutmeg, too. But just a bit too evident for me. Kühling-Gillot "Rothenberg" Wurzelecht, GG Rheinhessen 13.5 alcohol  90 points.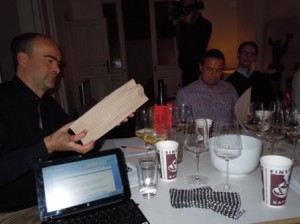 Flight Eleven
Wine One (21) Fresh white fruit. Bit of citrus, more grapefruit. Good spritz. Almost candied. Lots of energy. Lacks some substance. OK. 91,5 points.  Von Winning "Langenmorgen " (Deidesheim, Pfalz) 13 alcohol.  Still, this is pleasing overall!
Wine Two (22) Thicker texture. Heavier. Beethoven. I prefer the lighter Brahms of the previous wine. Or is it Bach? A bit thickly laid out pineapple, too. This is OK, but I get the feeling that it tries too hard. Müller-Thurgau made by a journalist, Stuart Pigott, his first wine… 87 points.
Flight Twelve
Wine One (23) Lighter color. Lovely cohesive wine, with elements of petrol and fruit, pear and other white fruit. I like this one! 92 points Dr. Bürklin-Wolf "Jesuitengarten "GC Pfalz 13 alcohol.
Wine Two (24) Closed nose. Chestnut aspect, a bit of tobacco? The palate is richer, perhaps a bit hotter? A wannabe Burgundy? It is good but falls short… I prefer the straightforward aspect of the first one. 91 points …  Wittman "Kirchspiel" GG Rheinhessen.
Flight Thirteen (a rather weak flight)
Wine One (25) Very pineapple, almost too sweet on the nose… the color suggests otherwise. The palate is better. Fresher. Brisk. A bit sour on the palate… Choucroute? 88 points. Weingut Ökonomierat Rebholz "Kastanienbusch" GG,  Pfalz (a famous vineyard)12.5
Wine Two (26) Beautiful nose of tobacco and mineral albeit lessened by a certain pineapple aspect. Perhaps just a bit light in that sense. The palate is sumptuous however, if just a bit hot.  California Chardonnay? 88 points. Reinhold Haart "Goldtröfpchen" GG Mosel  13 alcohol.
Flight Fourteen
Wine One (27) Licorice. Candied complexity. Licorice. Dry freshness.  Candied. Sexier. Schloss Lieser "Juffer Sonnenuhr" GG Mosel 13 alcohol. 91,5 points
Wine Two (28) A somewhat closed nose. Pear, white fruit! Spright. Good energy. Like #21 but more substance. This has a bit more substance to it, but stays fresh and cool. I want to swallow the second. The nose is just better and better! Hans Wirsching "Julius-Echter-Berg"GG Franken 13 alcohol.  93 points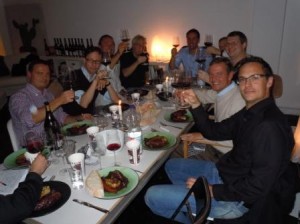 Flight Fifteen  
Wine One (29) Honeycomb biscuit aromas. A somewhat sweet palate but good acidity, too. Sweet peach aspect on the palate… but a bit cloying on the finish. 90 points? Weingut Friedrich Becker "Sonnenberg",  Pfalz 12.5
Wine Two (30) Better nose. Somewhat smoke like but also more energy on the nose and on the palate… and there is a smoked salmon like taste I like combined with lime. Pleasing without being cloying. 93 points Van Volxem Scharzhofberger "Pergentsknopp" GG Mosel 12 percent
Dinner with a 14 percent alcohol Pinot Noir… a bit oaked and alcoholic… Philipp Kuhn Steinbuckel GG Pinot Noir Pfalz. 86 points. For me the highlight was that Martin prepared a superb meal of roasted rabbit with turnip. Delicious!
1 Keller, G-Max 96,75
2 Wittmann, "La Borne" Alte Reben 96,25
3 Emrich-Schönleber, "Halenberg" 96,13
4 Schäfer-Fröhlich, Felseneck 95,06
5 Julian Haart/Adam Goldtröpfchen "Laychen" 94,75
6 Keller Abtse®.de 94,25
7 Keller Hubacker 94,25
8 Kühling-Gillot, Rothenberg 93,63
9 Battenfeld-Spanier Frauenberg 93,63
10 Keller Morstein 93,25
11 Breuer, Schlossberg 93,00
12 Van Volxem Scharzhofberger Pergentsknopp 92,86
13 Kühling-Gillot, Pettenthal 92,75
14 Loosen Erdener Prälat 92,38
15 B-W Kirchenstück 92,13
16 Becker Sonnenberg 92,00
17 Dönnhoff, Hermannshöhle, 91,88
18 Christmann, IDIG 91,63
19 Wittmann, Kirchspiel 91,38
20 Dr. Crusius, Felsenberg 91,13
21 Weil, Gräfenberg 91,00
22 B-W Pechstein 91,00
23 Von Winning Langenmorgen 90,69
24 B-W, Jesuitengarten 90,63
25 Wirsching Julius Echter Berg 90,63
26 Lieser Juffer Juffer Sonnenuhr 90,56
27 Rebholz, Kastanienbusch 90,13
28 Haart, Goldtröpfchen 88,71
29 Schloss Johannisberg 88,13
30 Pigott Müller-Thurgau 87,83