2012 Bordeaux from barrel: Somewhat ho-hum, but a few samples rose above the rest
April 21, 2013
My analysis depends very much on excerpts from a detailed report by Laurence Geny and Denis Dubourdieu. Many thanks to their work, which helped me to understand 2012  – and you can read my detailed notes based on that summary HERE.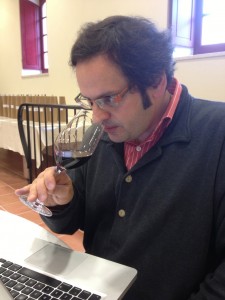 What to make of Bordeaux 2012 barrel samples? Now, you can jump to my tasting notes, but PLEASE, take the time to read further down! Part of me HATES scoring barrel samples. And points are annoying sometimes. But I feel compelled to do so, because as The Kinks sang: Give The People Want They Want. They want scores… Anyway, here are the notes and scores.
Graves and Pessac Leognan / Sauternes and Barsac / Margaux-Moulis-Listrac / Pauillac / Saint Julien / Saint Estephe / Saint Emilion / Pomerol / Haut Medoc
UPDATE: Contrasting the styles of Moueix with Stéphane Derenoncourt and Nicolas Thienpont on the Right Bank
For those of you who are not rushing off to the tasting notes, here some general observations.
First off, I cannot recall ever having written so many 'ho-hum' phrases whilst taking notes. There was a certain amount of boredom.
One negociant – who evidently does not wish to be named – told me that at one point, he just stopped bothering to score the samples, 'because there was a similar dullness.' So does his lack of enthusiasm for issuing grades mean that it is all – pardon the pun – pointless?
Is there good news?
Well, yes.
I must admit that assigning points to barrels samples in this vintage was not so easy… But, some samples did very well in the context of the vintage. And it was a vintage not so easy to categorize as clearly Left Bank or Right Bank, Merlot or Cabernet – as you can read in my analysis based on a superb summary of the weather conditions that led up to the harvest, by Denis Dubourdieu and Laurence Geny
Some people spoke of 'the three P's' doing well: Pauillac, Pessac and Pomerol. There may be some truth to that, if you take into account the all important management and stylistic differences that determined the quality of the barrel samples tasted in April this year.
But I would probably add Margaux to the list – even though I wrote quite a few "ho-hums" in my blind tasting of Margaux as well.
And Saint Julien, which I usually find the most consistent, seemed more variable than usual. Some people said that the further north you went, the better the Cabernets. SO, perhaps that explains the rather strong performance of Pauillac? But what about the fine performance of some Margaux, particularly Palmer and Rauzan Segla. I did not taste Chateau Margaux, but heard very good things. I shall return to Bordeaux in June to taste it and others I had missed in April.
Important note: 
Please everyone reading this take note: assessing barrel samples only indicates strong clues as to the wine from bottle, but should NEVER be taken as a substitute. For that reason, I repeat, more definitive judgment comes some two years hence, when we can assess the wines – that is finished wines from bottle! 
Stylistic factor comes to the fore
To me it was clear that wines made in the style of say Denis Dubourdieu or the father-and-son Boissenot team on the Left Bank and the Berrouet style on the Left Bank proved more successful for my palate than, say, the wines of Stéphane Derenoncourt.
Now, of course I have my subjective taste which prefers elegance and subtlety over power and (large) scale.
But in 2012, with some notable exceptions (Pape Clement for example) those wines that always seem to be rather extracted seemed … all the more so. Most people told you that pips were not fully ripe in 2012, so it was important not to extract too much. What a difference it was to taste a rather heavy wine like Pavie Macquin as compared to a wine like Canon. Or a Pomerol from the Cercle de Rive Droite compared to a Pomerol made from the Moueix family. For me, it was very hard to taste the wines at the Cercle de Rive Droite.
So basically, this was a vintage that should put the stress on elegance and finesse. The concentration of a great vintage was not so easy to obtain, so why try too hard?
At least that was my impression.
Did any barrel samples I tasted really "wow" me? Not so many in 2012. Just a few rose above the ho-hum pack and above the 'rather good' pack.
At the top of the heap from the Left Bank, I would put Château Palmer. It seemed even better than Lafite and Mouton Rothschild and certainly better than both La Mission Haut Brion and Haut Brion. I did not taste Latour or Margaux, but that will be done in June – and I will retaste Palmer, too.
Thomas Duroux explaining what it took to make a great Palmer in 2012
From the Right Bank, the top wines of Moueix were all at least very good, but Trotanoy stole the show… certainly on an equal level to Palmer. I also liked Vieux Chateau Certan, although it does not reach the combination of finesse and layered flavor as it does in 2005 or 2010.
The "marvelous Moueix" wines in 2012 … with critic John Gilman 
Among the rather good to very good wines from the Left Bank? Rauzan Segla from Margaux, which stood out among all the Margaux tasted blind from barrel. From Pauillac, both Mouton and Lafite are at the top of the heap, but Pichon Comtesse is not far behind (I will taste the Baron in June), and I would put Grand Puy Lacoste and Clerc Milon and Batailley among the very good wines from Pauillac.
From Pessac-Leognan in red, Haut Bailly and Domaine de Chevalier and Smith Haut Lafitte, but also honorable mentions for Pape Clement, Olivier (in both red and white),  and Les Carmes Haut Brion.
Go to the tasting notes:
Graves and Pessac Leognan / Sauternes and Barsac / Margaux-Moulis-Listrac / Pauillac / Saint Julien / Saint Estephe / Saint Emilion / Pomerol / Haut Medoc
In Saint Julien, none of the wines really came into a "wow" category… Let's look at them again in June and certainly from bottle, when one could actually call this a wine tasting and not a barrel tasting. I did not however taste Ducru Beaucaillou or Leoville Las Cases, and understood that the former in particular did very well – I will taste in June.
Among the firsts, I found Haut Brion and La Mission Haut Brion underwhelming, (much) preferring their whites. Mouton Rothschild may have a slight edge on Lafite, but they were both in the 'rather good' category instead of 'wow' wines.
As for Saint Emilion, and other regions, please just start reading my notes as I want to leave you more reason to browse my work here!
TASTING NOTES LINKS
Graves and Pessac Leognan / Sauternes and Barsac / Margaux-Moulis-Listrac / Pauillac / Saint Julien / Saint Estephe / Saint Emilion / Pomerol / Haut Medoc
UPDATE: Contrasting the styles of Moueix with Stéphane Derenoncourt and Nicolas Thienpont on the Right Bank
Analysis of weather leading up to harvest with my comments 
In an official analysis of the Bordeaux 2012 harvest, by Laurence Geny and Denis Dubourdieu, of the Faculty of Oenology, Bordeaux Segalen University, Bordeaux Institute of Vineyard and Wine Sciences, it was stressed that 'even if conditions were not ideal in spring and autumn, the weather in 2012 was conducive to the production of good to very good wines'. When I read the official analysis, I did not find any inordinate spin. In fact, all the negative aspects were addressed.
2012 was a relatively late-ripening year featuring a 'hopelessly' wet spring, they wrote, followed by an 'exceptionally dry' summer and 'disturbed' autumn weather necessitating quick picking.
As you may note in my video below – in an interview with Arnaud Durand, oenoligist at Château Batailley – extraction was soft peddled because the pips of the grapes were not as ripe as in better vintages. Incidentally, Batailley performed quite well in 2012, like other wines from Pauillac in this vintage…
Facing the challenges of the 2012 vintage at Château Batailley, as explained by oenologist Arnaud Durand
2011 and 2012
Interestingly, the report by Geny and Dubourdieu talks of the equally challenging 2011 vintage as a sort of 'polar opposite' to 2012 in that 2011 was an early-maturing year in which summer occurred in spring, went away in July and August, and only came back, in a big way, at the beginning of autumn… 'So, everything sets 2012 and 2011 apart, and both years are also different from the admirable 2008, 2009 and 2010 vintages with weather patterns more in keeping with great years – but each with its own specific characteristics.' In other words, folks, be careful if and when you purchase both 2011 and 2012!
Nuts! Do not believe those who say that 2012 'should logically command higher prices than 2011'
The question is: will 2012 prices be low enough to garner interest, and – of course qualitatively – how do the two compare? Already, French writers Francois Gilbert and Philippe Gaillard – as you can read in THIS ARTICLE from wine-searcher.com – say 2012 is a clear step up. They say that the vintage should 'logically' command higher prices. What? I firmly disagree.
How can they talk about success in Sauternes and Barsac, for example? In any case, I found that some 2012s were better than their 2011 counterparts – take Chateau Palmer for example. But there is no 'clear victor' in the 2011 vs 2012 vintage contest. Except perhaps for the dry and late harvest whites. 2011 certainly seems to have more precision for the dry white wines of Bordeaux than 2012, which seems a bit less focused, sometimes clumsy in a fruit cocktail sort of fashion. Although certain whites, notably the great whites of Haut Brion and La Mission Haut Brion, truly excelled in 2012. But it is no contest in terms of Sauternes and Barsac, whose 2011 wines are clearly superior to their younger siblings.
So, the best way we can explain these things is a more careful look at  the weather and harvest conditions. Any logical analysis will show you that both 2011 and 2012 faced huge hurdles.
Bud break in 2012 was delayed due to a very wet (+101 mm more rain than usual in April) and cool (2.3°C lower than average in April) early spring.  Buds finally appeared in late March in the most early-ripening plots and in mid-April – three weeks later than in 2011. The beginning of vine growth was slowed down by poor weather. There were two incidences of spring frost in 2012, on the night of 16 April in the Libourne and Entre-Deux-Mers regions, and on that of 9 May in the Graves area. The uneven growth observed during bud break was confirmed at this time, according to the report by Dubourdieu and Geny.
Although May proved more conducive to vine growth, with close to average temperatures, variable weather during the first 20 days did not make up for the delay. The first flowers appeared later than usual, during a spell of dry weather, at the very end of May – almost a month later than 2011, but only a few days later than 2010. 'Unfortunately', Dubourdieu and Geny note, 'the weather was dull and wet in early June during flowering, with cool temperatures from the 6th to the 13th. Mid-flowering was reached on 11 June and, much like bud break, was spread out and accompanied by coulure (shot berries) and millerandage (abnormal fruit set). In other words: an inauspicious start!
Grape varieties sensitive to shot berries (Merlot, Sauvignon Blanc and Cabernet Franc) therefore suffered to varying degrees. As usual, old vines, frequently virus-infected, suffered the greatest crop losses. The rain stopped in mid-June. More summerlike high pressure conditions arrived starting on the 22nd and temperatures were close to 30°C later in the month, according to the report. 
'Mildew struck with extreme virulence during this abnormally rainy spring,' the report continues. The first symptoms were to be found on leaves and also, unfortunately, on flower heads, as soon as flowering started. This vine disease was generally suppressed with synthetic fungicides. However, organic producers, who only allow themselves the use copper salts, experienced significant and sometimes heavy crop loss, especially for Merlot.
Weather indicators for 2012: rainfall and temperature (compared to the 1971-2000 average) and hours of sunshine (compared to the 1991-2000 average) Data from Mérignac (Météo France) – courtesy of report from Laurence Geny and Denis Dubourdieu
Hours of sunshine (h)

Precipitation (mm)

T°C average minimum (°C)

T°C. average maximum (°C)

2012

Average 1991-2010

2012

Average

1981-2010

2012

Average

1981-2010

2012

Average

1981-2010

January

58

95

53

87

4.4

3.1

10.1

10.0

February

173

115

6

71

-1.6

3.3

7.3

11.7

March

255

170

31

65

5

5.4

18.1

15.1

April

120

182

179

78

6.9

7.4

15.1

17.3

May

259

217

28

80

12

11.0

22.5

21.2

June

221

239

65

62

15

14.1

24.6

24.5

July

250

249

47

50

14.4

15.8

25.6

26.9

August

248

241

19

56

17.1

15.7

28.5

21.7

September

228

203

59

84

13.6

12.9

24.9

24.0

October

119

147

115

93

11.2

10.4

18.8

19.4
 Mid-flowering and mid-véraison dates in 2012 compared to 2011, 2010, 2009, 2008, 2007, 2006, 2005, and the average of the last 10 years – courtesy of report from Laurence Geny and Denis Dubourdieu
| | | |
| --- | --- | --- |
| Period | Mid-flowering | Mid-véraison |
| 2001-2011 | 2 June |  4 August |
| 2005 | 30 May | 3 August |
| 2006 | 4 June | 6 August |
| 2007 | 26 May | 3 August |
| 2008 | 11 June | 15 August |
| 2009 | 5 June | 3 August |
| 2010 | 9 June | 9 August |
| 2011 | 17 May | 21 July |
| 2012 | 11 June | 12 August |
Now we come to some key conclusions from the report. By this stage, the first two so-called prerequisites for a "perfect vintage" –  i.e. early, quick flowering followed by the beginning of a water deficit during fruit set thanks to dry and fairly warm weather to ensure good fertilisation, even ripening, and berries that are not oversize – "were unfortunately not met".  No sugar coating here, folks.
"Spread-out véraison (colour change) and the uneven ripening of relatively large berries typical of this vintage were mainly due to wet weather during flowering and fruit set," the report continues.
Significant factor: dry late summer
For me, one key period to understanding the 2012 vintage comes in the late summer, which, as the report noted, "was not truly hot until mid-August, but the weather was sufficiently dry to stop vine growth and enhance ripening."
According to Dubourdieu and Geny, rainfall was "less than in a normal year, and a water deficit appeared". Vine growth slowed down in early August and came to a halt towards the 10th of that month.
Indeed, the long dry stretch that ensued stressed the vines: "Between 29 July and 22 August, we only had 13mm of rain," said Patrick Maroteaux of Chateau Branaire Ducru, who classifies 2012 as a "very good year" compared to "exceptional" years like 2009 and 2010.
Such conditions enabled the vines to catch up somewhat with delayed growth, according to Dubourdieu and Geny. "However, periods of extreme heat caused slight burning damage or blocked véraison of the most-exposed bunches in certain locations. This increased the impression of unevenness already observed at the beginning of the growth cycle, and véraison lasted until late August like in 2010."
Colour change was "slow and laborious", especially for the Cabernets, and the resulting uneven ripening is one of the main characteristics of the 2012 vintage.
As Dubourdieu and Geny wrote: "Once again, this was caused by the cold, wet weather during flowering in early June. Obviously, vineyard managers could not remain idle when faced with such heterogeneous ripening, and they made sure to cut off green or insufficiently red bunches after 15 August. This sacrifice was especially painful because the crop already promised to be small. However, those managers who did not take this courageous step at the right time ran the risk of picking some late-ripening grapes impossible to sort out during the harvest. These had a herbaceous flavour that was conveyed to the wine." Tasters did encounter some herbaceous flavors in the 2012 barrel samples, because not all managers reacted as "courageously" as they could or should have.
So, the limited water supply before and during véraison to bring vine growth to a complete halt, what Dubourdieu and Gety call the "third prerequisite for a good red wine vintage" was "practically satisfied".
Go to the tasting notes:
Graves and Pessac Leognan / Sauternes and Barsac / Margaux-Moulis-Listrac / Pauillac / Saint Julien / Saint Estephe / Saint Emilion / Pomerol / Haut Medoc
Slow ripening in the hot, dry months of August and September
The report continues:
"After véraison, the weather was conducive to ripening for the first twenty days of September thanks to little rain, maximum temperatures 1-2°C above average, and a diurnal and nocturnal temperature range  propitious to aromatic expression and the synthesis of anthocyanins.
"Changes in temperature in base 10 in 2012 (Figure 6) show the vintage to be in keeping with the average over the past 10 years.  Readings (Figure 7) show that 2012 was sunnier than the thirty-year average, with an extremely dry month of August (Figure 8). This was also the case for the first two weeks in September.  Water stress thus gradually increased (Figure 4). Shallow-rooted young vines, as well as heavily-laden ones, suffered as a result of this. Some plots temporarily experienced blocked ripening in late August/early September. Vines with deep roots and ones on limestone or clay soil coped more successfully with the persistent drought in the summer of 2012, and ripened normally."
That last point could explain why, perhaps paradoxically, the wines of the northern Medoc did rather well. Cru bourgeois wines from Saint Estephe, like Meyney and Les Ormes de Pez, or from Pauillac, like Haut-Bages-Monpelou, proved tasty and ripe enough in the 2012 barrel samples. Reader, take note: all of the above are not super expensive and constitute relative bargains for Bordeaux lovers!
According to Dubourdieu and Geny, the "fourth prerequisite for a good red wine vintage" – slow, complete ripening thanks to hot, dry weather in August and September, but without a heat wave – was satisfied in 2012.
What about the dry whites?
The dry white wine harvest in Pessac-Léognan and the Graves took place from 2 September to 18 September, i.e. 2 weeks later than in 2011. The weather during this time was sunny and dry during the day and cool at night, which helped to lock in aromas and acidity. The grapes were in perfect condition, without a trace of grey rot, according to Dubourdieu and Gety. They could be picked quickly and required practically no sorting. Yields were lower than average for Sauvignon Blanc, but relatively satisfactory for Sémillon.
Such conditions may have been good for the dry whites, but, in my humble opinion, they seemed to lack the precision from the 2011 vintage. Is that because, being picked later, they may have had more sugar than in 2011? Read on, dear reader!
Dates of dry white harvest – courtesy of report from Laurence Geny and Denis Dubourdieu
| | | |
| --- | --- | --- |
| | Sauvignon Blanc | Sémillion |
| 2010 | 2 – 15 September | 15 – 20 September |
| 2011 | 22 – 31 August | 1 – 5 September |
| 2012 | 3 – 10 September | 10 – 18 September |
Dubourdieu and Geny concluded that the Sauvignon Blanc grapes indeed had "higher sugar levels in 2012 than in 2011″, comparable to 2010". Total acidity was slightly higher than in 2010 and similar to 2011. According to their report, "the balance between sugar and acidity in berries from suitable terroirs, combined with fruit in impeccable condition – essential criteria for white wine grapes – gave rise to great hopes for a very good dry white wine vintage in 2012. However, it was important to pick fairly quickly before the acidity dropped." That last point could explain why some dry whites I had encountered seemed "fuzzy" less focused, than in 2011.
October brings less hope…
One can recall that some vintages on the Left Bank were "saved" by a fine Indian Summer. 2002, anyone? This was not to be the case 10 vintages later. The weather changed abruptly starting in late September when a beautiful summer gave way to an early, wet autumn. October 2012 was less sunny than average and also wetter, with major showers falling in the middle of the month. Philippe Dhalluin – seen in this video below – told me that he had to pick as late as possible to get maximum ripeness. In that sense, 2012 reminded him of the 1995 vintage, whose thick skins displayed much tannin but not as much opulence as in a vintage like 1996 or 2009. Bordeaux fans may recall that 1995 is known as a "Merlot" vintage and that the Left Bank wines of 1995 are sometimes compared to 1988 or 1975. That they need more time to "come around." There is some truth to this, but – as usual – it is not as simple as that!
Philippe Dhalluin talks about 2012 at Chateau Mouton Rothschild
True that the Merlot harvest, which began in late September, did not need as long a hang time as the Cabernet. And one could say that the Merlots were better suited – in general – for 2012. Certainly this could explain the unqualified success of many estates in Pomerol, particularly those owned by the Moueix company. See video below.
Certainly at Haut Brion, where more Merlot was used than in most other vintages  historically.
On the other hand, Merlot did not handle the heat stress as well as the Cabernet. For what other reason would Philippe Dhalluin have used highest ever percentages of Cabernet Sauvignon in his Clerc Milon wine? Which, by the way, proved to be another fine Pauillac in 2012! You see, if anything, 2012 is, er, complicated.
In the end however, and on a general level, in terms of weather for ripening, Dubourdieu and Geny conclude that "a good week of fine weather was missing for many of the Cabernets in order to achieve full maturity". 
In fact, sugar levels in Merlot were generally comparable to 2010 and slightly less than 2009, whereas the Cabernets were comparable in this respect to 2010 and slightly higher than in 2009. Acidity levels, on the other hand, were lower. I have not yet tasted Petrus (I will in June), but it clocked in at 14.4% alcohol! And the Merlot dominated La Mission Haut Brion? Nearly 15%!
So, it is true that certain 2012 Cabernet grapes (Sauvignon and Franc) displayed varying degrees of herbaceousness because of an isobutylmethoxypyrazine content above the detection threshold. But managers who made the effort, were able to counter this to some extent. Although they could not change the fact of a long, spread-out flowering and véraison during a wet spring or blocked ripening due to prolonged summer drought, they could have made the effort – as was done at the glorious Château Palmer in Margaux – to lower yields dramatically. Or carry out needed leaf thinning and green harvesting to eliminate late-ripening grapes at the right time.
Having tasted through many Left Bank wines, I agree with Geny and Dubourdieu that it would be a "mistake" to consider the 2012 Cabernets generally herbaceous because many of them did not suffer whatsoever from the olfactory defect of "green" or pyrazine.  "Concentrations of these compounds were relatively low in our reference vineyards and below the olfactory detection threshold (15ng/l) because of their rapid breakdown starting in late August due to well-managed green pruning."
According to Dubourdieu and Geny, then, "the 5th prerequisite for a great vintage in Bordeaux – fine, moderately warm weather with little rainfall during the harvest to attain optimum ripeness in each plot without dilution or rot – was thus perfectly satisfied only for dry white and Merlot wines. All plots of Cabernet were not able to take advantage of such conditions."
Go to the tasting notes:
Graves and Pessac Leognan / Sauternes and Barsac / Margaux-Moulis-Listrac / Pauillac / Saint Julien / Saint Estephe / Saint Emilion / Pomerol / Haut Medoc
Sauternes: you can't always have a great vintage
I do not mean to pick on Sauternes. Making wine there is arguably more labor intensive than anywhere else in Bordeaux, with multiple pickings, laborious pickings of only botrytis infected grapes. But, as Geny and Dubourdieu wrote:
"The harvest in the Sauternes region was complicated for two reasons: summer drought and autumn showers. The extremely dry weather from mid-July to August caused considerable water stress, except on limestone soils where groundwater reserves are always greater. On 22 September, by which time the dry white wine harvest had finished, there was still no sign of noble rot in the Sauternes region. The first outbreak of botrytis came about as a result of showers on 23, 25 and 26 September, totalling approximately 40 mm (figure 15). The fungus spread  to varying degrees from that point on depending on the vineyard. Noble rot progressed most quickly on Barsac's limestone plateau, where the harvest started in the first week of October. The late development of botrytis reduced the time frame for weather propitious to concentration on terroirs where summer water stress was most severe. The spread of noble rot became slower and slower as the autumn went on. Interrupted by rain on 19 and 20 October, picking continued thereafter until the end of the month. Some 50 mm of rain in the first week of November marked the end of the harvest. Anything not picked by then was lost.  Despite these difficulties, it was possible to pick a small quantity of promising grapes with very pure noble rot on limestone soils. These produced very good lots of wine with sugar levels close to 2008, but less than 2009 and 2011."
Do I agree? Sort of. When I tasted the Sauternes – and Barsacs – blind from barrel, I got an overall impression of a vin d'apero vintage. A lighter than usual vintage. Hey! That can come in handy. You can purchase 2012 Sauternes and Barsac for its lighter qaulities… But seriously, 2012 is hardly a reference for your Sauternes and Barsac buying. Better to purchase vintages like 2011, 2010, 2009, 2007, 2005, 2003, 2001… Well, you catch my drift. 2012 Sauternes is somewhat akin to 2002 in the southern Rhone. Avoid it.
As Dubourdieu and Geny conclude, the "five prerequisites for a great vintage in Bordeaux were not all satisfied in 2012". Below, their concluding remarks, with my bold for emphasis:
Spring weather was responsible for not fulfilling the two first requirements. Flowering and véraison did not go well. The third prerequisite was partially satisfied in 2012, but vine growth only slowed down (rather than stopping) prior to véraison, and definitively came to a halt at mid-véraison. The fourth prerequisite (slow ripening during a hot, dry month of August) was also satisfied in 2012.  However, only white wine grapes and Merlot fully met the fifth and last requirement. Fine, sunny weather with limited rainfall meant that grapes could be picked at complete oenological maturity without any fear of rot. Many Cabernet grapes deserved to ripen longer to lose their herbaceous flavour, but October showers did not allow for this. And the late arrival of noble rot on certain terroirs and rain in mid-October also complicated the harvest in Sauternes.
The 2012 dry white wines are very good:  elegant, and with beautiful acidity for both Sauvignon Blanc and Sémillon. Merlot grapes from limestone or clay and gravel terroirs are truly great: deeply-coloured, fruity, concentrated and silky. They will have an essential role to play in the final blend. Certain Cabernet wines from the best terroirs that resisted summer drought conditions are also successful. Those from other terroirs lacked a further week of ripening. The Petit Verdot wines are good, but not outstanding. Produced in small quantities, the sweet white wines are pure and well-balanced.
TASTING NOTES LINKS
Graves and Pessac Leognan / Sauternes and Barsac / Margaux-Moulis-Listrac / Pauillac / Saint Julien / Saint Estephe / Saint Emilion / Pomerol / Haut Medoc
UPDATE: Contrasting the styles of Moueix with Stéphane Derenoncourt and Nicolas Thienpont on the Right Bank