Margaux 2012: overall rather good, with one "super star" (updated)
July 13, 2013
By Panos Kakaviatos in July, 2013
Last month, I visited Chateau Palmer to verify my very positive impression of that estate in the 2012 barrel sample – video, further down. But I also visited Chateau Margaux, which I did not visit in April. Accounting for stylistic differences, I found Palmer to be more successful than Margaux in 2012 – at least from barrel samples I tried.
Interestingly, Margaux's second wine, Pavillion Rouge, seemed more substantial to me than Palmer's Alter Ego in 2012 as barrel samples… Anyway, notes from my June 2013 visit, below:
At Chateau Palmer in June 2013
I liked Chateau Palmer 2012 so much from barrel when tasted in April 2013, I wanted to try it again in June during Vinexpo 2013. It was great to be joined by old friend Guillaume Deschamps and Nina Izzo, blogger extraordinaire of Lost in Wine.
With Céline Carrion of the Chateau Palmer, we examined the wet vines from terrible weather thus far in Spring 2013. Jean-Louis Carbonnier said old Merlot on graves over clay are more susceptible to water.
Palmer saw a small harvest in 2012, partly because of the effects of hail from the 2011 season.
The 2012 Alter Ego was charming, exuding a cranberry freshness that I had appreciated in April, while Palmer 2012 seemed more muted at this stage than it had been in April.
Was it because of the weather?
In any case careful tasting revealed a wine of substance: rich Merlot combined with pure and tannic Cabernet. It was similar to the smashing April tasting, but just not as evidently discernible on the palate. 13.5 per cent alcohol.
We took the time to visit Palmer's recently reconstructed vat room, with tanks of different sizes now permitting more exact fermentation according to vineyard parcels according to climate as ripening can vary within parcels themselves, Jean Louis said.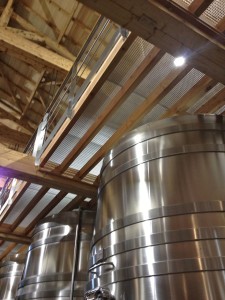 New stainless steel tanks introduced in 2011 – see photo above.
Bernard de Laage de Meux joined us to point out the vertical press, which yields better press wine, as the press is gentler.
Tasting at Chateau Margaux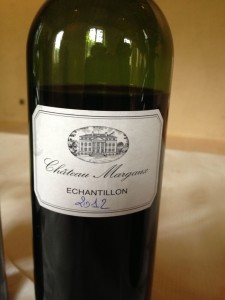 Chateau Margaux 2012: A different style compared to the Chateau Palmer tasted earlier this morning, and perhaps not as successful in 2012. I liked the subtle pine forest aromas, the purity of the fruit and the finesse of the tannin, introduced by a very supple attack. The mid palate is graceful and deceptively understated, there is some underlying structure here, but I am not too impressed by the finish, which seems a bit short, coming from a chateau of this caliber. Let's see how it does after some aging in bottle.
Pavillion Rouge 2012: Fine perfumed nose, suave entry and good tannic grain. Counts among the top second wines from 2012 – and better than Palmer's  very good Alter Ego in 2012, as it seems to convey more depth.
Chateau Margaux 2011: This comes across as somewhat "heavier" than the 2012, with somewhat hard tannins on the finish. The body is good, however, the mid palate both cohesive and impressive, but this wine comes across as less than charming overall, seeming to have a bit of Saint Estephe in Margaux …
Pavillon Rouge 2011: This was good but also a bit hard when compared to the 2012.
PREVIOUS REPORT: FROM APRIL 2013
Tasted on Friday afternoon, 12 April, at Chateau Palmer with Thomas Duroux, who explains 2012 for the estate, below: 
Alter Ego (89-91): Freshness on the nose, fine sap on the mid palate, finish is clean and tonic in a moderate sense. This is not the best Alter Ego I have had, but a very good one in 2012. Blended with 51% Merlot, 40% Cabernet Sauvignon and 9% Petit Verdot. 3.65 pH.
Palmer 93-95+
Well, a rare barrel sample that really wowed me in 2012. This is candidate for sample of the vintage. Very subtle aromatics – olive, cherry pit, mineral – precede a bright and juicy palate, superb tonicity, with excellent tannic grain. Director Thomas Duroux spoke of a fine match between the rich Merlots that were used and the very pure Cabernets and I agree completely. "An English vintage, but not just that," remarked Bernard de Laage de Meux. Indeed, it transcends for example the classical profile of, say, Lafite Rothschild, in that it combines a streamlined Cabernet precision with a sumptuous Merlot aspect. I came away enjoying this far more than the 2011 last year. So, if prices fall, this may be worth buying! Classy and elegant, but with underlying power, the wine has precision and excellent length, all the while rounded out with Merlot contributed richness. A superb and exciting blend. The numbers: 13.4 alcohol and 3.75 pH. About 28 hectoliters per hectare (very choosy sorting here), with 46% Cabernet Sauvignon, 48% Merlot and  … 6% Petit Verdot.
Now, I did not taste Château Margaux, but have heard only good things… will taste in June and report back. So please, stay kindly tuned!
Tasted at Chateau Giscours on Friday 12 April. Fellow taster Hugo Van Landeghem said he 'really liked' 5 out of the 20 Margaux in particular that we had tasted blind. We generally agreed that the wines sometimes seemed a bit dilute on the mid palate, with attenuated finishes, but there were some good ones, too! The notes below include also samples from Moulis and Listrac and one sole Medoc…
Listrac Medoc / Samples 1-4
Chateau Clarke 88-90
1: Soft aromatics. Red apple. Cranberry. Attack is firm. Mid palate, medium minus presence, with tannins tight but non aggressive and a decent freshness overall. Modest finish. Not bad overall and best of the Listrac flight.
Chateau Fonreaud 87-89
2: Oak derived vanilla. Plum. Supple attack. Mid palate is rather smooth, linear lacking perhaps some substance, modest finish, adequate tonicity. OK.
Chateau Fourcas Dupre 85-87
3: Lead pencil, strawberry, cabinet wood on the nose. But the attack is a bit watery and unfocused. Ho hum, but nothing hard or drying. Why bother here, as you can get better back vintages, including a lovely 2010, for about the same price!
Chateau Fourcas Hosten 86-88
4: Robust. Oak derived vanilla. Soft red fruit expression. Attack is firm enough, mid palate has some sap, but dissipates a bit towards the finish, which is marked by somewhat hard tannin.
Moulis
Chateau Chasse Spleen 88-91
5: Soft plum. With aeration vague notes of cedar and light (oak derived?) spice.  The attack is rather soft. Fine sap overall, a welcoming juiciness that fills the mid palate to a moderate level. Although texture is not as fine as in better vintages no doubt, the finish ends with modest iodine freshness. Let it fill out with barrel age. If the price is right, this may be your Moulis ticket.
Chateau Maucaillou 87-89
6: Somewhat darker hue than the preceding wine. Initial nose of plum, vanilla. Aeration brings garden aromas. Supple attack, soft overall, tannins are polite here, but is it playing things a bit too safe? The somewhat modest finish certainly results in a build of intensity, but the mid palate seems to lack enough body.
Chateau Poujeaux 87-89
7: Oak derived aromas here. A bit of reduction overall? Somewhat "silent" in its expression. A second sample showed more overt plum and fruit, but somewhat (still) rather foreboding and strict. I think we are detecting some oak-derived tannin that comes to the fore, after discussing with other tasters, but there is fine concentration and substance. An enveloping tannin dominates. Let's see how it is from bottle.
Medoc
Chateau La Tour de By (non blind) 86-88
8: Fresh nose, red fruit. Frank attack, mid palate has enough sap. A bit drying on the finish, but moderate fruit flavor intensity overall.
Margaux  Flight One
Chateau Angludet 88-91
9: Garden plant. Floral. Enveloping freshness on the nose. The attack is soft. Mid palate is of moderate intensity. Tannic grain is fine enough. Finish is modest. Someone somewhere posted that this is a wine to look for in 2012. I agree.
Chateau Brane Cantenac 90-92
10: More of a dark fruit register aromatically. The palate has good 'wetness' and sap to the mid palate. Supple. Moderate substance. Red fruit. Soft finish. Quite refined overall, if not reaching the layered depth of the second to last wine…  Let's see how it performs from barrel, but rather promising.
Chateau Cantenac Brown 89-91+
11: Robust (slightly oak derived?) spice, ripe strawberry. Here we have substantial mid palate presence after a more firm tannic attack than the preceding wines.  There is grip and the finish ends with firm tannins and moderate length.
Chateau Dauzac 84-86?
12: Quite a bit of oak derivation but there is also garden like dew drops on the nose. Sap on the nose. Brisk attack leading to quite a bit of flavor intensity on the mid palate but marked by too much dry oak tannin.
Chateau Desmirail 87-89
13:  Flower. Red fruit. Soft overall, rather modest mid palate, but the grip is subtle. Smooth feel overall. Modest finish.
Chateau du Tertre 88-90
14: Nose is soft red fruit. The attack is polite, leading to a modest mid palate and a modest finish. Time in barrel needed to fill it out, no doubt. So barely a bold, but a bold nonetheless.
Chateau Ferriere 86-88
15: Tannins are noticeable but where is the concentration, the fruit? This is (yet another?) somewhat thin expression of the vintage.
Margaux Flight Two
Chateau Giscours 90-92+
16: Subtle spice on the nose, black fruit. Attack is of moderate intensity. Mid palate is moderate plus, and subtle in its build-up. Marked by herbal and even olive like aromatics/flavors. Intriguing. Fine tonic finish, with tannic edge. One of the top Margaux in this tasting to be sure.
Chateau Kirwan 90-92
17: Intriguing nose here. Black olive. Licorice. Dark fruit. The palate shows signs of healthy ripeness, and grape extraction but also fine tension. Tonicity to the mid palate. Finish is moderate. Better than sample number 21.
Chateau Labegorce 88-90+
18: Oak derived, but also floral. Juicy on the mid palate if somehow competing with some vaguely drying aspects… Finish is modest.
Chateau Lascombes 88-90
19: Closed nose. Double checked. Palate is not hard – so far, these wines have not been hard overall – but it shows some drying tannin. Not egregiously so, but noticeable. Plum like fruit pleases however, especially on the attack. Where is this going?
Chateau Malescot Saint Exupery 88-90+
20: Modest flavor intensity aromatically. The palate is marked by tightness. Seems wound up, but concentration is there. Some traces of drying tannin on the finish, but not overly worrying. Juicy enough on the mid palate.
Chateau Marquis de Terme 89-91
21: A more sumptuous nose here, garden freshness expressed. The palate evokes sap, dew like, and the mid palate displays grip, vivacity. There is a bit of drying on the medium length of the finish however.
Chateau Monbrison 87-89
22: Perfumed garden aromas. The attack is supple, fresh. Is this however just a bit diluted on the mid palate? This is not an exception for Margaux in this vintage, but I notice this yet again. Abbreviated finish is however fresh, with modest lift.
Margaux Flight Three
Chateau Prieure Lichine 89-91
23: Plum fruit, (oak derived?) spice. The attack is firm enough, mid palate is moderate, somewhat over linear, leading to ever so slightly wall like tannin on the modest finish. No noticeable extraction but just a tad warming? A more modern style, but well done.
Chateau Rauzan Gassies 88-90
24: Red licorice. Strawberry. Firm attack. Moderate substance to the palate. Subtle tannic bite. A bit of a modest finish, but there is mid palate presence. Tannins are somewhat drying on the finish.
Chateau Rauzan Segla 92-94
25: Tonic nose. Raspberry. Garden fresh. Attack is frank yet suave. Substantial and subtle mid palate presence. Fine grip. A certain tannic power that leads to an echoing finish. Quite the wine here. The best of the Margaux in this tasting.
Chateau Siran 89-91
26: Vague notes of strawberry. Some wood derivation. Attack is smooth, blackberry and even soft notes of coco. This has a rather cohesive palate feel as well. Supple and medium bodied mid palate, if not as impressive on the finish as the preceding wine.
See my notes for barrel samples from the other Bordeaux appellations in 2012:
Back to the main 2012 from barrel page
Graves and Pessac Leognan / Sauternes and Barsac / Margaux-Moulis-Listrac / Pauillac / Saint Julien / Saint Estephe / Saint Emilion / Pomerol / Haut Medoc